If you have older dental crowns you may notice a black line around the base of your tooth, as your desire for a more cosmetic and natural appearance grows you may begin to wonder what you can do about it?
What is the black line around the base of a crown?
The black line can be caused by one of two things:
Metal from the crown showing through
Shadow from the crown
Metal from the dental crown showing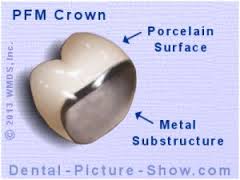 This is the most likely possibility. Underneath older style crowns is a layer of metal, usually gold alloy. These porcelain fused to metal crowns are one of the oldest types of dental crowns available and predate the more modern zirconia options. The metal framework was there to provide strength to the dental crown as the porcelain was inherently weak when under tension forces.
If there was no black line when the crown was fitted this is usually because the black line was hidden under the gum line at the time of fitting. Unfortunately, as we age our gum line moves and recedes… Hence the phrase 'getting long in the tooth'.
If your gum has receded it may now be exposing the border between your dental crown and natural tooth and the black line from the metal is now visible.
Shadows around a crown
In sum, more rare occasions, the black line is an optical illusion caused by a poorly fitting dental crown which casts a shadow over the surrounding area. Typically these black lines are less prominent than the black lines caused by metal showing from the crown.
What can be done about the black lines on crowns?
Most of the time the only way to resolve this problem is to have new dental crowns made. These can then either be made to fit better than the original crowns, thereby eliminating the shadow or in a different material which doesn't include the metal.
What materials can be used to make crowns?
One of the most modern materials used is zirconium oxide known as zirconia. Zirconium oxide is a naturally occurring mineral which, when processed into a dental crown is extremely hard and durable and resistant to fracture.
Before and after removal of black lines on dental crowns.
The following patient was unhappy with all of their top teeth and the black lines which were clearly visible. If you look closely in the before photograph you can see how much the gum has receded around the black lines, making them appear worse. When the crowns were originally fitted, chances are the gum covered the black lines and the black lines were not visible.
Before removal of black lines
After removal of black lines
After the new brighter, whiter, better fitting metal free crowns this patient was so delighted they wrote the following review.
'My experience with Solihull Dental and Implant Centre was outstanding from the first consultation with Zubair and now after 6 years with my regular checkups, he has always given me the right advice. I felt from day one I was always in safe hands. I found that what I got from Zubair was a professional dentist at a very high standard with high quality workmanship and the after care to follow. As a very happy patient I would always recommend Zubair and his team.'